LEADING YOUR BRAND SUCCESSFULLY WITH THE RIGHT BRAND STRATEGY
At the beginning of every good branding process there is a brand analysis. It quantifies a brand, i.e. expresses it in numbers, which is otherwise often just a feeling. This gives your company a clear picture of the brand image and positioning on the market. Or as Jeff Bezos puts it somewhat casually: "A brand is what people say about you when you leave the room."
But the way to analyze brand perception varies greatly in terms of scope, target groups surveyed and methodology. When we start a brand project with our clients, our analysis is precisely tailored to their objectives. In this way, we guarantee that we can then subsequently derive the correct recommendations for action.
WHAT IS SPECIAL ABOUT BRAND ANALYSIS BY DIETRICH IDENTITY?
We think of brands holistically. That is why we analyze brands from the inside as well as from the outside. By surveying employees, we make the brand's self-image visible and additionally show employees that their  opinions are valued. With the survey of the relevant external target groups – such as clients, suppliers and other stakeholders – we reveal the external image. This opens up a very direct dialog that is often neglected in day-to-day business.
Whether in person, by phone or digitally – we will find the right methodology for your brand project.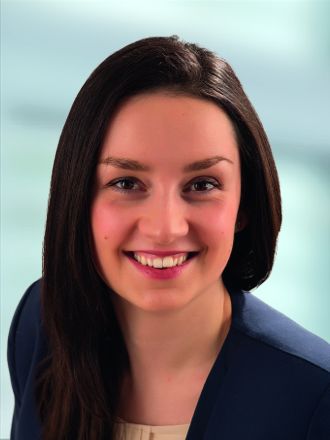 "The most exciting moment in brand analysis is when the similarities and differences between the self-image and image of others emerge. At this moment we are taking a big step closer to true brand identity."
Stephanie Meyer, Dietrich ID Brand Analysis Expert
Are you interested in a brand analysis?
SINCE OUR ESTABLISHMENT IN 2003, VALUES HAVE BEEN THE CENTRAL COMPONENT OF OUR BRAND STRATEGY
At Dietrich Identity we are convinced that a clear brand identity and a professional brand strategy have a decisive influence on the success of a company. The brand values, which shape the inner culture, the attitude and the personality of a brand, play a central role.
We have therefore developed a special brand model: The Dietrich Identity Brand Flower. It illustrates the brand identity taking into account the following three elements: brand essence, brand value and brand facets.
The brand essence symbolizes the most important value. It identifies externally and differentiates most strongly from the competition. The brand values describe the attitude of the brand. They are true (authentic) and relevant to the target audience (benefits). And thus the compass for the tonality of your internal and external communication. The brand facets complement the brand values. They make the brand values tangible and understandable, and have a behavioral effect for the employees.
MANY COMPANIES HAVE DEFINED VALUES, BUT OFTEN WITHOUT HIERARCHY
An equivalent list of company values is usually not very productive. In addition to authenticity, brand management also means to focus on the essentials. A brand essence and three brand values are memorable and create an identity for customers and employees.
A special focus here is on the brand essence as a guide for communication. It carries a special basic idea that needs to be communicated both in terms of content and visually at every point of contact with the brand. Only in this way can the core brand statement be firmly anchored in the minds of the target audience.
The three brand values refine the attitude both internally and externally. They describe the way employees and managers of a brand act. They also shape the tone and the entire corporate look and feel.
FOR US, VALUE AWARENESS IS NOT JUST A BIT OF BRAND WORK.
True values are our passion. Because only if the values ​are also experienced by all target groups, i.e. are genuine, do they create orientation, clarity and, in the end, motivation and vibrancy.
Do you want to know how you are positioned in terms of brand strategy? Do the brand check and receive 3 recommended actions from us.
EMPLOYER BRANDING SHOWS HOW VALUABLE A CLEAR BRAND IDENTITY IS
Anyone who wants to maintain or expand their position as a competitive company in the future cannot avoid creating an attractive employer brand. If we understand the development of an employer brand as a brand strategy for active and potential employees, then identity, corporate culture and the values practiced in the company are important. Therefore the employer brand is only as credible as the corporate brand is visible and noticeable to its employees. So anyone who thinks a good employer brand is just about marketing is wrong.
MORE THAN JUST A LARGER NUMBER OF APPLICATIONS
Of course, an attractive employer brand should primarily appeal to new employees. More appeal means more applicants, more choice, and the ability to hire employees who better fit the corporate culture.
Above all, however, the employer brand has an internal effect. A clear, authentic brand strategy promotes motivation, performance and a sense of togetherness among existing employees. It thus contributes to the loyalty of the employees and increases the company value.
WHAT WE OFFER YOU: EXPERIENCE AND A SYSTEMATIC APPROACH
A good employer brand does not come about overnight. Employees do not just become brand ambassadors. Your own career page, social networks, kununu etc. do not play out on their own.
We accompany you through these challenges and support you from strategy to implementation. Read here how we proceeded at kbo – Kliniken des Bezirks Oberbayern.
OFTEN THE CRUX IN COMPLEX ORGANIZATIONS: THE BRAND ARCHITECTURE
New locations, acquired companies or innovative product launches – there are many reasons why the complexity in organizations increases. A clear brand architecture not only contributes to the necessary overview, but also affects the entire structure of the company.
Brand architecture describes the way and hierarchy in which the brands or service areas are named and structured in a company. It defines the strategic relationship between brands and products and is therefore a key efficiency factor. As part of our consultancy on brand strategy, we recommend whether an umbrella brand, individual brand or another brand architecture is best suited for your company.
OUR SERVICES AT A GLANCE
We at Dietrich Identity love to help our clients discover the power of brands to make long-lasting and positive impressions, both internally and externally. We also love strategy, and to roll up our sleeves for implementation. During their journey with us our clients discover what everyone wants to find but very few do ― their true values.
Find an overview of our skills and service areas below:
Brand Consulting
A strong brand is the basis and guide for your marketing. Together with you, we explore the success factors of your brand and develop a suitable strategy and positioning for your brand. We base this on the brand model we developed: the Dietrich Identity Brand Flower. It puts your brand values in the right light.
Brand strategy
Branding without a strategy is like a journey without a destination or a map. Together with you we develop the strategic framework. For this we have rethought the "Golden Circle". Our 4 W form the framework for your overall strategy in the form of vision, mission, values and growth strategy.
Marketing Communication
Strong brands and strong communication are no coincidence. That is why we develop communication concepts for you as a marketing plan for your new market presence, both internally and externally. And we also conceive, write, design and produce a wide variety of brand communication measures for you.
Corporate Identity
The corporate identity, one's own self-image, is the most important link between the company, the people and the target group. This way, you broaden the communication by the dimensions of performance and behavior – because clear communication of all services is just as crucial to success as the perceptibility of your culture and your company character through history, behavioral standards and symbols.
Corporate Design
Your company-specific appearance makes your brand recognizable and unique. We have learned one thing from the multitude of branding projects: a visualized strategy is the strongest and most efficient tool to show the public a uniform, positive image and to increase awareness of your company.
Activation
Vision, values, and guiding principles are all just waiting patiently as ideas on paper as long as they are not lived. With our activation workshops, we ensure that the basics of your brand are understood, applied and implemented by everyone in your company. Together with we will inspire your employees and get them on board in a fun way.