8 STEPS TO A SUCCESSFUL EMPLOYER BRANDING CAMPAIGN
Finding the right employees can present itself as quite a challenge for employers.
Due to the skilled labor shortage, companies in the health care industry are especially affected by this. The solution? An Employer brandingAls Branding wird der gezielte, aktive Aufbau einer... weiter campaign. This transforms employers into an attractive brand for potential future employees.
But how does one approach this in the best way? We have summarized 8 steps based on our current employer branding campaign for kbo – Kliniken des Bezirks Oberbayern.
Step 1 – Being aware of one's own brand
The premise of any successful employer brand is a clear brand identity. The corporate valuesDie festgelegten Werte innerhalb einer Unternehmens... weiter and corporate cultureJede Organisation lebt eine bestimmte Kultur. Diese... weiter are especially important for employees and applicants. They not only create a favorable working environment, but also forge the framework for all interactions with each other. Our client kbo is always able to revert back to the developed brand model, in which the value "reliable" symbolizes the brand essence.
Step 2 – Clearly defining the aim and target groups
Concrete goals can now be established – ideally in cooperation with the human resources department. In addition to increased employee applications, the stabilization of fluctuation numbers can be an appropriate goal, too. The employer branding campaign of kbo focuses on three target groups: psychiatric caregivers, therapists and doctors. We want to establish kbo's image as an attractive employer, as well as increase the numbers of applicants for these occupational groups. In the meantime, the campaign also raises kbo's awarenessBekanntheit einer Marke oder eines Anbieters beim K... weiter in the entire region of Oberbayern.
Step 3 – Creating one's own digital career channels
The basis for this was already put in place in 2020. At the heart of kbo's employer appearance is the relaunchWiedereinführung oder Reaktivierung eines Produkte... weiter of the career page kbo.de/karriere, equipped with all central information regarding working at kbo. Eight good reasons reveal all benefits for working for kbo. The career blog with employer portraits and insights into working for kbo not only supports all claims but also arms them with credibility.
Regular posts on social media channels Facebook, Instagram, Twitter and YouTube address individual aspects of the routine work days at kbo, with the company profile on Xing and LinkedIn completing the picture. The corporate designCorporate Design 

Unt... weiter is consequently applied throughout, increasing kbo's recognizability.
Step 4 – Formulating the main idea for the campaign
Every good campaign connects all textual and visual aids. The central theme consists of all elements of a campaign and represents the employer brand in a trustworthy way.
"Oftentimes companies make unrealistic promises, especially in the areas of healthcare, pharmaceuticals and clinics. This is why kbo deliberately counters this trend with an authentic and grounded positioning. With its company values reliable, diverse, close and safe, as well as the expression of high trustworthiness, the central idea #ehrlichkbo was established."

Michaela Suchy, head of corporate communicationCorporate Communication umfasst die Maßnahmen und ... weiter kbo
The idea of #ehrlichkbo, which translated to honest kbo, is not only expressed through the tonality of the texts, but also through the presentation of eight authentic employees who operate as brand ambassadors.
Large-format posters for nursing and medical professions
Step 5 – Carefully choosing the appropriate channels
On the basis of the aims of the campaign and its target groups, specific media can now be selected. It is especially beneficial to act from the perspective of applicants, as shown in the study titled 'Focus: Job search 2018', conducted by Stepstone, which addressed the importance of digital touchpoints for applicants.
"88% of applicants use online-job platforms, 49% go directly to the career sites of targeted companies and 46% use business networks."
Therefore, digital media channels play an important role in our kbo-campaign, especially due to the ability to target specific job profiles as well as relevant regions. A generous poster campaign in Munich and in the district of Upper Bavaria ensures even higher visibility. Besides large-scale, pillars and mega lights close to clinics, the highlights of the campaign consist of three striking mega lights, as well as two trams in kbo-look.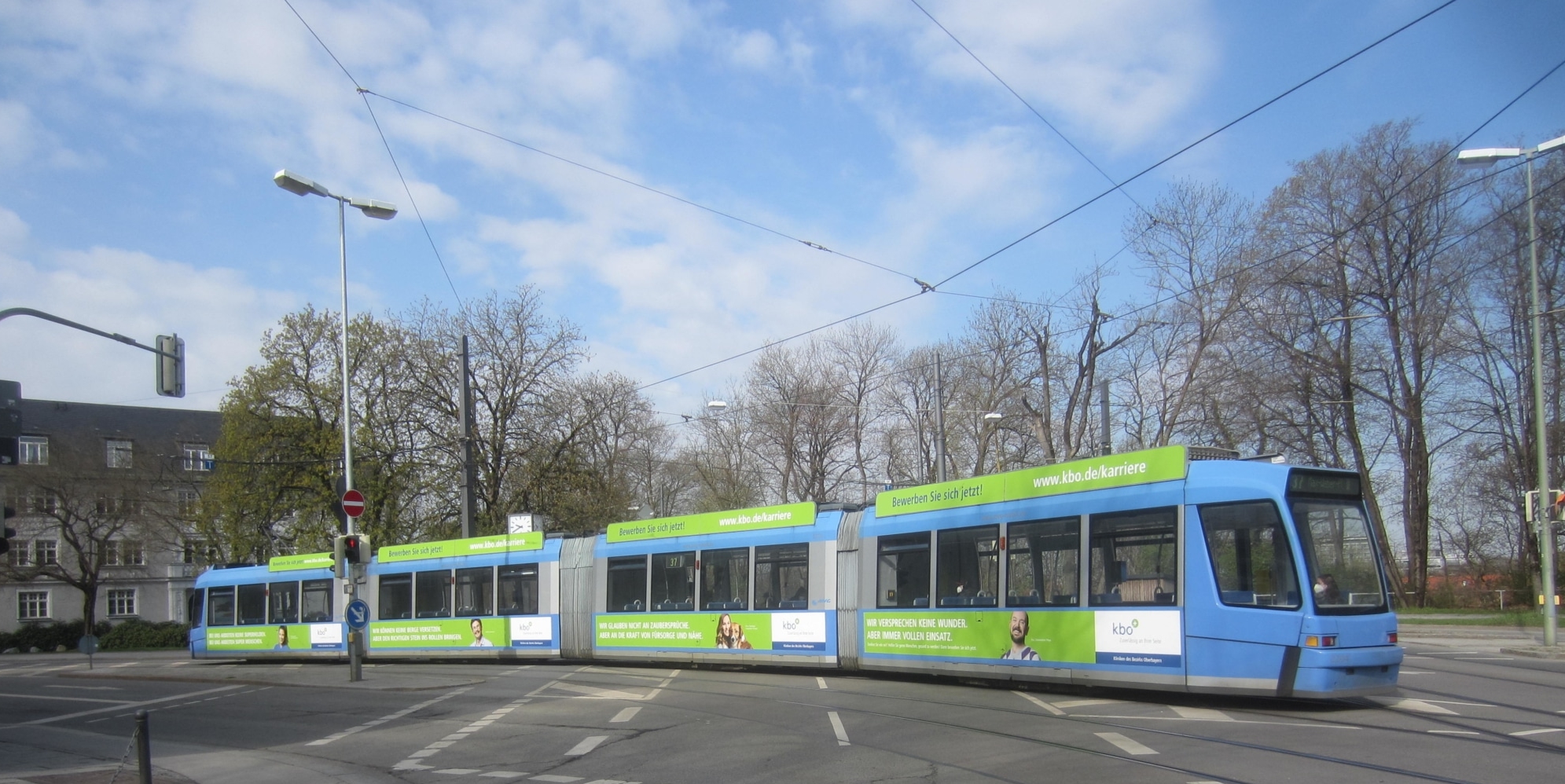 Step 6 – Forging a digital strategy for the campaign
A multitude of digital opportunities present themselves for employer branding: social media, search engine marketing, display and motion pictures. For kbo, the campaign is the first big impact with high visibility in the region. Further measures can be complemented with future campaigns.
Step 7 – Creating channel-specific motifs
Due to the nature of social media, fast-paced and able to be targeted to specific groups and their needs, the motifs of the posters should not be exactly adopted into the digital campaign. Therefore, to remain relevant and present over an extended period of time, multiple motifs for each target group are needed. Themes that carry the potential for activating and emotional storytelling need to be identified. While Xing and LinkedIn focus on the communication of work-related topics, the recreational aspects are emphasized on Facebook and Instagram. Our kbo campaign also follows this principle.
Step 8 – Internal communication
Since it is also to the existing employees' benefit to employ relevant applicants, it is crucial to inform, motivate and engage them once the campaign is set in motion. Positive recommendations of the employees are incredibly valuable, whether these are digital or in personal exchanges with friends.
kbo's employees total more than 7500, over 50 different locations, thus having a large potential for recommendation. The start of the campaign is accompanied with info posters in the individual clinics, as well as with organic social media posts. A raffle adds to the traffic and engagement on all social media platforms.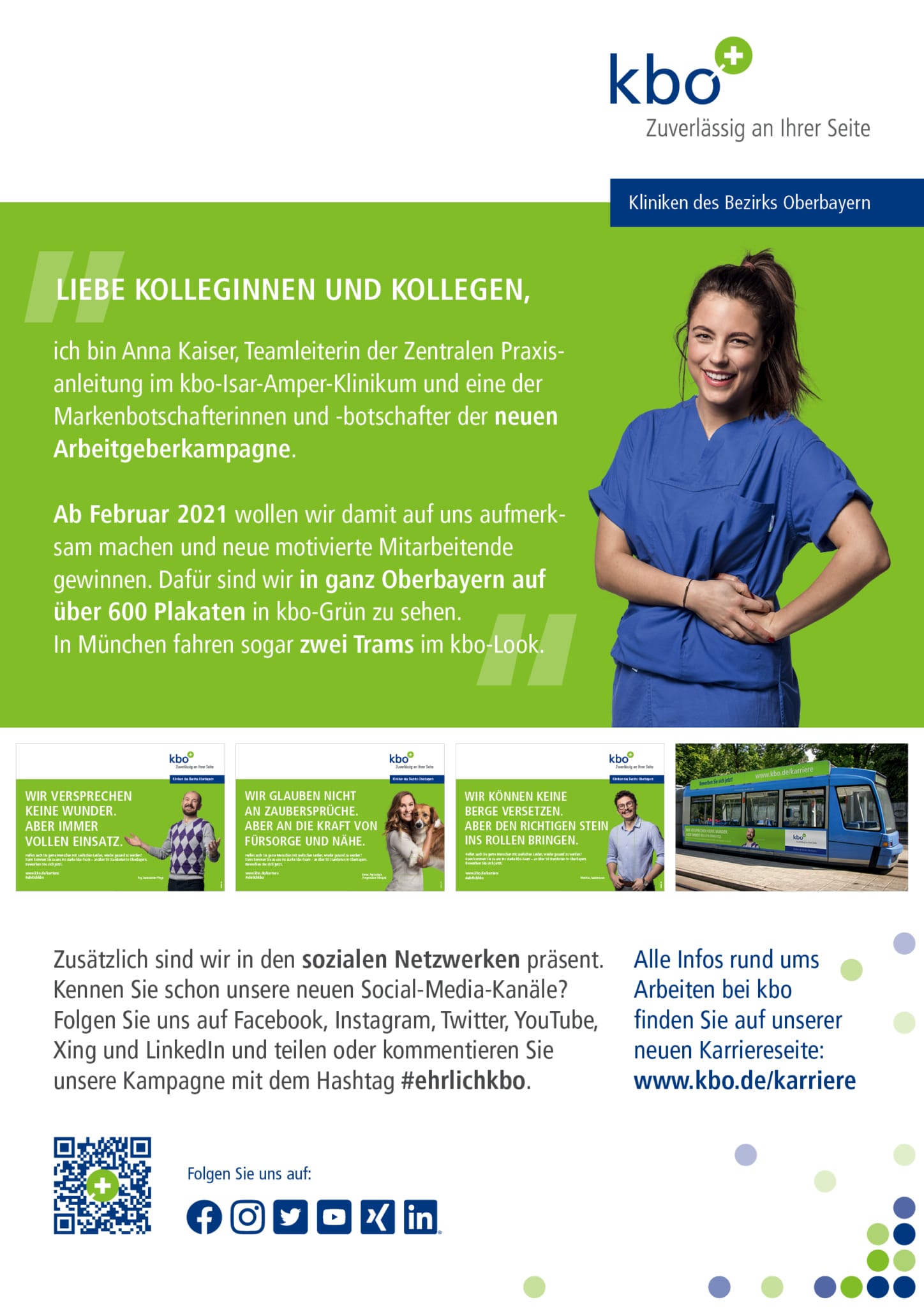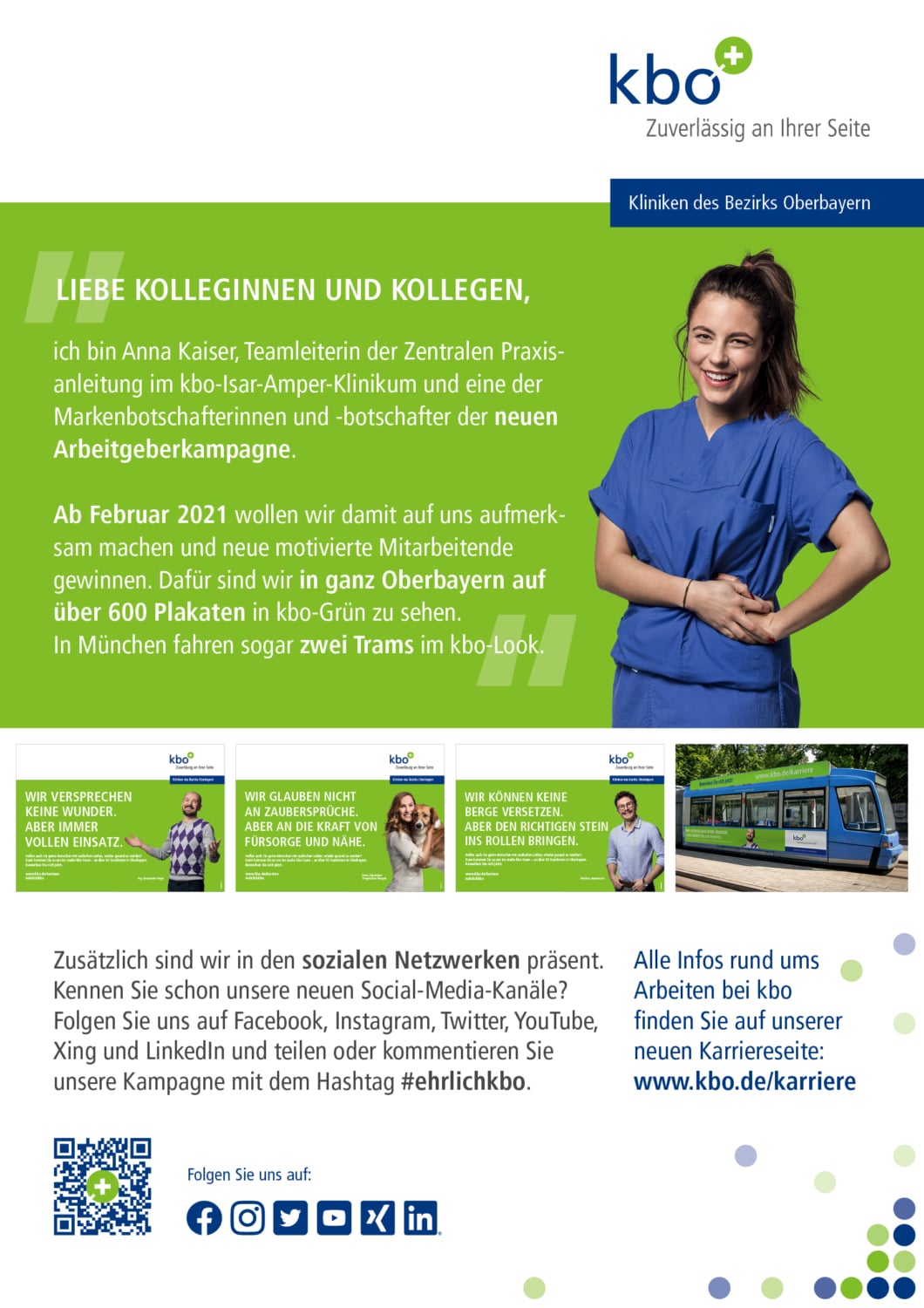 Learnings & Community Management
Like with all campaigns, the aim is to learn from past successes and mistakes. Beside classic key performance indicators, social networks in particular offer opportunities for direct feedback. For this, active community management is important to reach the direct interaction with the interested parties.
It is amazing how much hard work and passion is put in such an employer branding campaign. We wish kbo a lot of success with the campaign and numerous, qualified applications.
Should you also be interested in an employer branding campaign for your company, please contact us here. 
Latest posts by Cirdell Brewer
(see all)
https://www.dietrichid.com/wp-content/uploads/2021/04/FB_Post_1080x1080px_Kathrin_Aerztin-1.png
1080
1080
Cirdell Brewer
https://www.dietrichid.com/wp-content/uploads/2023/05/Logo_Final_05_23-01.svg
Cirdell Brewer
2021-04-21 16:47:05
2022-06-02 10:31:21
8 STEPS TO A SUCCESSFUL EMPLOYER BRANDING CAMPAIGN